HGH Infrared Systems celebrates EURONAVAL's Spynel 360° Panoramic Camera ensures Airport Safety against drone flyovers
Igny, January 15th 2019 – The recent incident at London Gatwick airport caused major travel disruption for more than a day after drones were spotted flying over this sensitive area. This incident once again highlighted the need for anti-drone technologies to address this evolving threat and secure the safety of flight. Following the episode, the US Federal Aviation Administration was instructed to develop a strategy to allow wider use of counterdrone technologies across airports. Detecting drones, and any UAV threat is a real challenge for many reasons. HGH Infrared Systems with its family of renowned SPYNEL thermal sensors offers a unique set of solutions to address this evolving threat and ensure true, real-time airport security.
 In these times of heightened UAV threats, the SPYNEL IR imaging camera provides an innovative solution which guarantees the ability to detect, track and classify any types of drones.
Whereas the drone technology is constantly evolving, bringing on the market many different types of drones including fixed wing, multi rotor drones, drones with GPS, autopilot and camera, autonomous drones emitting low or no electromagnetic signature, the SPYNEL thermal imaging technology, makes it impossible for a UAV to go unnoticed: any object, hot or cold will be detected by the 360° thermal sensor, day and night. Driven by the CYCLOPE intrusion detection software, the panoramic thermal imaging system tracks an unlimited number of targets to ensure that no event is missed over a long-range, wide area surrounding. SPYNEL is thus fully adapted to multi-target airborne threats like UAV swarming.  SPYNEL is a versatile, multi-function sensor with a large field of view enabling real-time surveillance of both airborne and terrestrial threats at the same time.
The CYCLOPE automatic detection software provides advanced features to monitor and analyse the 360° high resolution images captured by SPYNEL sensors. The ADS-B plugin enables aerial target identification and the aircraft ADS-B data can be fused with thermal tracks to differentiate an airplane from a drone. With the forensics analysis offering a timeline, sequence storage and playback possibilities, it is also possible to go back in time to analyse the behaviour of the threat since its first apparition on the CYCLOPE interface. Moreover, the latest CYCLOPE feature makes 3D passive detection by triangulation available when using several SPYNEL sensors at the same time. The feature consists in analyzing the distance and the altitude of multiple targets, creating a kind of "protective bubble" around the airport.
Edouard Campana, Sales Director at HGH Infrared Systems, said: « Spynel 360° panoramic thermal camera and its Cyclope software are frequently used against drones to ensure the security of national and international events, critical infrastructures, airport and more. The real-time visualization and detection of multiple targets makes it a unique sensor for ultimate situational awareness. This solution is rapidly deployable and offers HD playback capabilities, very useful for events clarification."
A key advantage of the SPYNEL detection system for airport applications is that it is a fully passive technology, meaning it will not be a source of disturbance in the electromagnetic environment of the airport, unlike radars. Indeed, a concern often raised by air-safety regulators is that anti-drone systems designed to jam radio communications could interfere with legitimate airport equipment.
Part of the complete surveillance equipment of an airport, the SPYNEL thermal imaging sensor is the must have security equipment for such a high-risk infrastructure, operating with complementary detection sensors. Military facilities, correctional institutions, stadiums and other critical infrastructures have already chosen to integrate the SPYNEL sensor with their other security and facility systems, such as radars, PTZ cameras, Video Management System and more. SPYNEL can also be rapidly deployed as a standalone solution for temporary surveillance, to face urgent cases. With its 24/7 and panoramic area surveillance capabilities, the SPYNEL thermal camera provides an early warning and an opportunity for rapid and accurate detection over large areas, to support proactive decisions.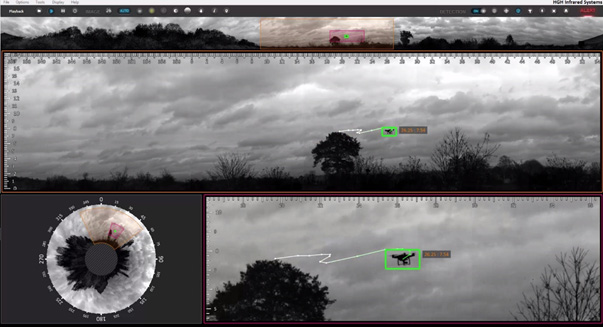 About HGH Infrared Systems:
HGH Infrared Systems has been an expert in infrared technology for over 30 years. Since 1982, HGH designs, develops, assembles and sells electro-optics systems and software for security, defense, oil & gas, energy and various industrial applications. The company has established itself as an international reference in terms of innovation in infrared technology, through the development of multiple advanced sensors, systems and proprietary software. HGH Infrared Systems' Head Office is located in Igny near Paris, in the heart of the French Optics Valley, where the most well-known research laboratories and companies are based.
Press contact:
+331 69 35 47 70
hgh@hgh-infrared.com
www.hgh-infrared.com