PORTABLE multispectral test bench for optical devices
A versatile and compact test bench for the maintenance of military equipment
OPAL is a multispectral portable bench dedicated to the test and the maintenance of military EO devices.
It has been designed to be robust and very easy to use, be it in a lab or on the field.
OPAL is based on a compact collimator for field application and includes infrared and visible reference sources such as a blackbody and an integrating sphere, as well as specific targets and filters.
The OPAL collimator is the result of our long experience in the maintenance of military electro-optics systems. The field-proven COPI test bench as well as the world renowned NV-2500 and NV-2020 night vision testing systems are part of this product range.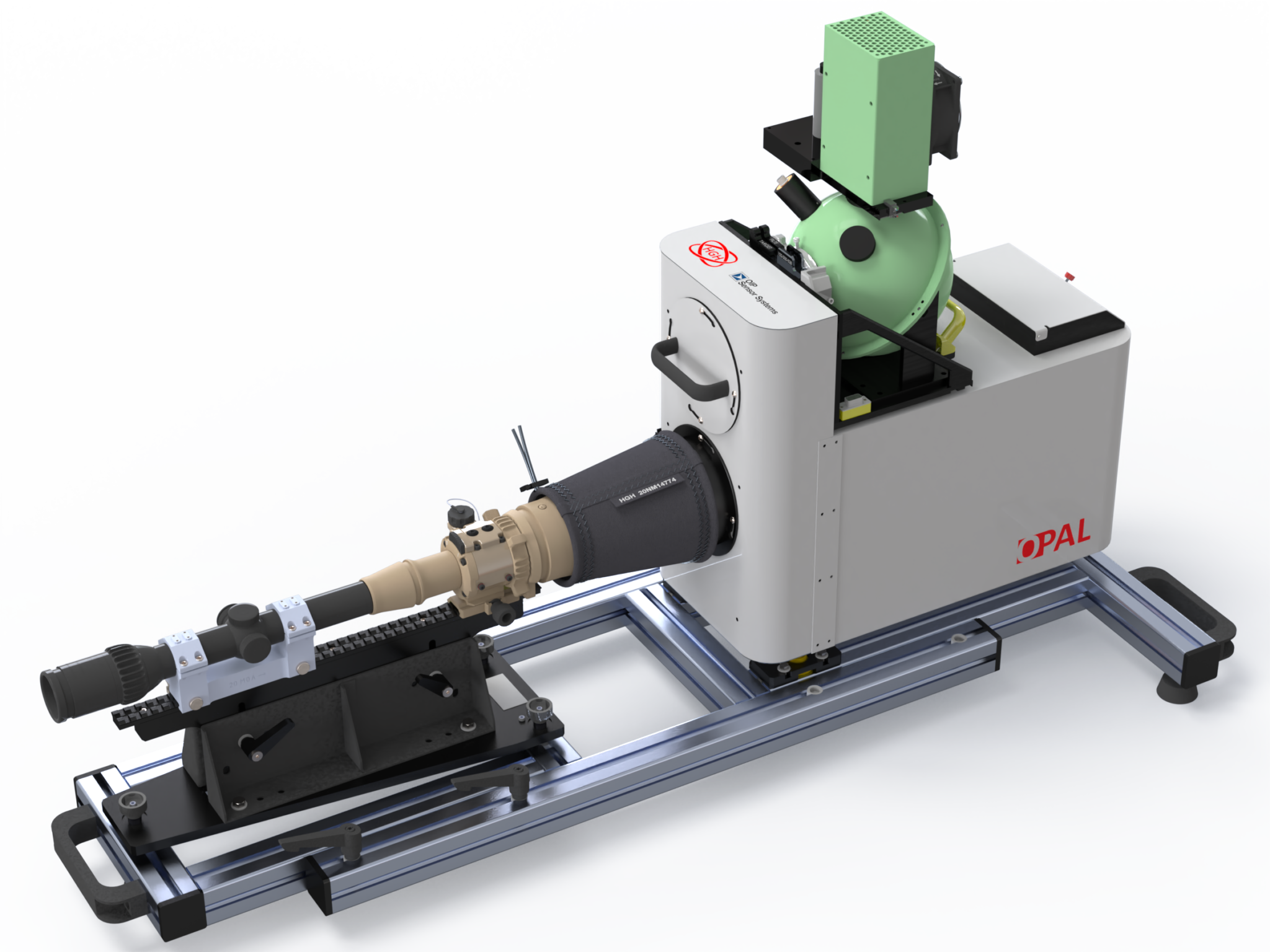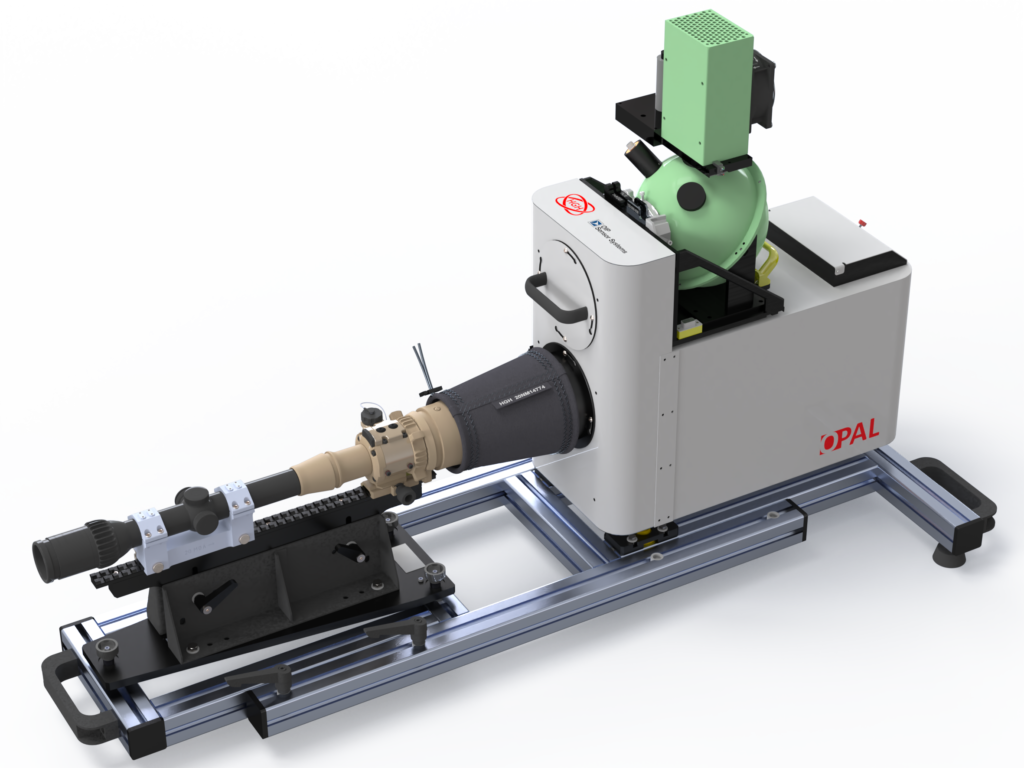 Modular, portable test bench

Compact, lightweight, field system

OPAL is compatible with all light military field optical devices:
The modular and versatile configuration of OPAL, associated with dedicated exhaustive test software and ruggedized PC, make it compatible with the main EO devices on the market. It enables the testing of:
• Thermal & SWIR imagers (1-2.5µm/ 3-5µm/ 8-14µm)
• Night vision goggles
• TV cameras or day goggles
• Laser rangefinders and illuminators
• Multispectral portable devices
• Weapon sights and clip-on equipped with Thermal, Intensifier Tubes and LRF modules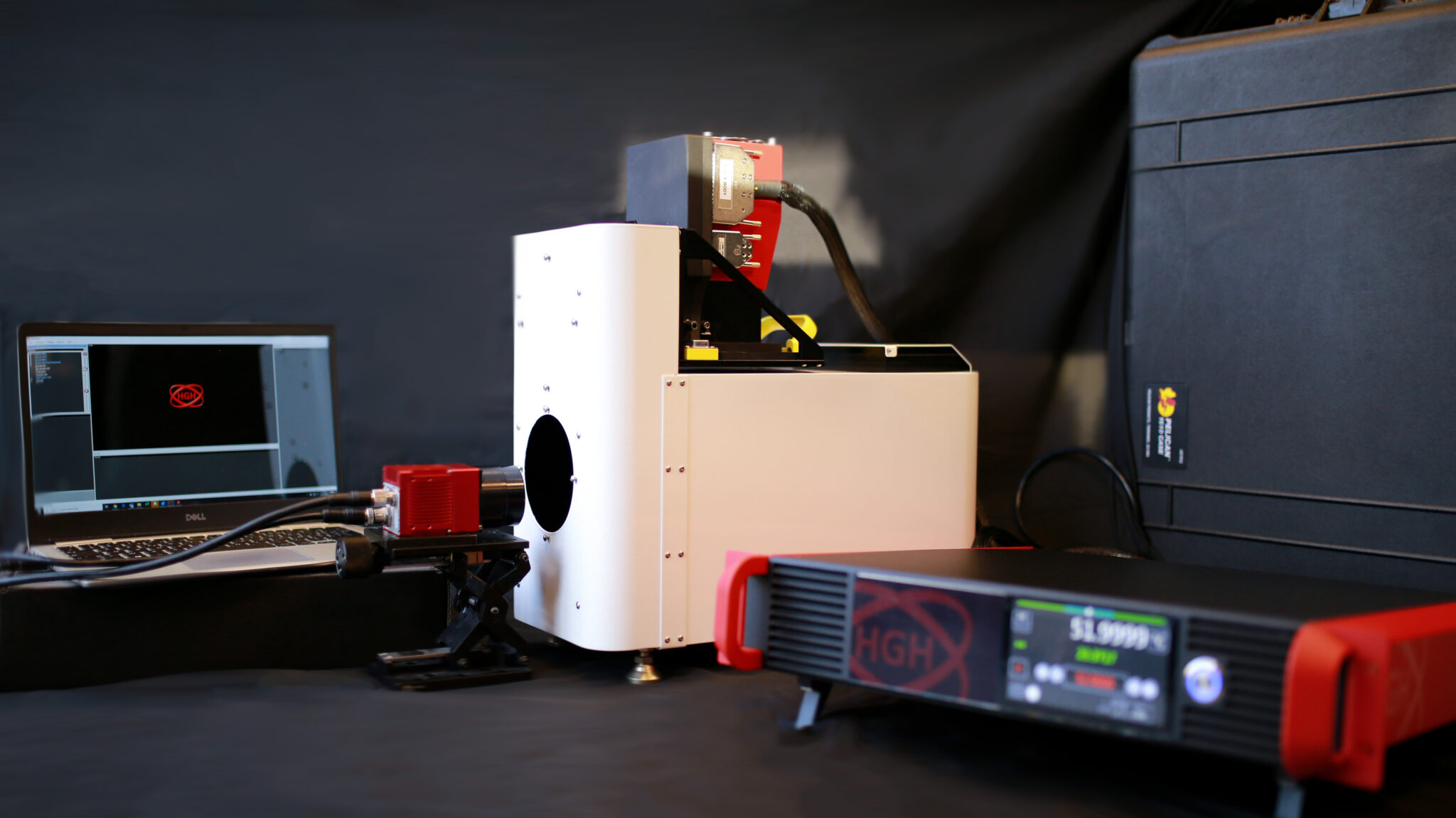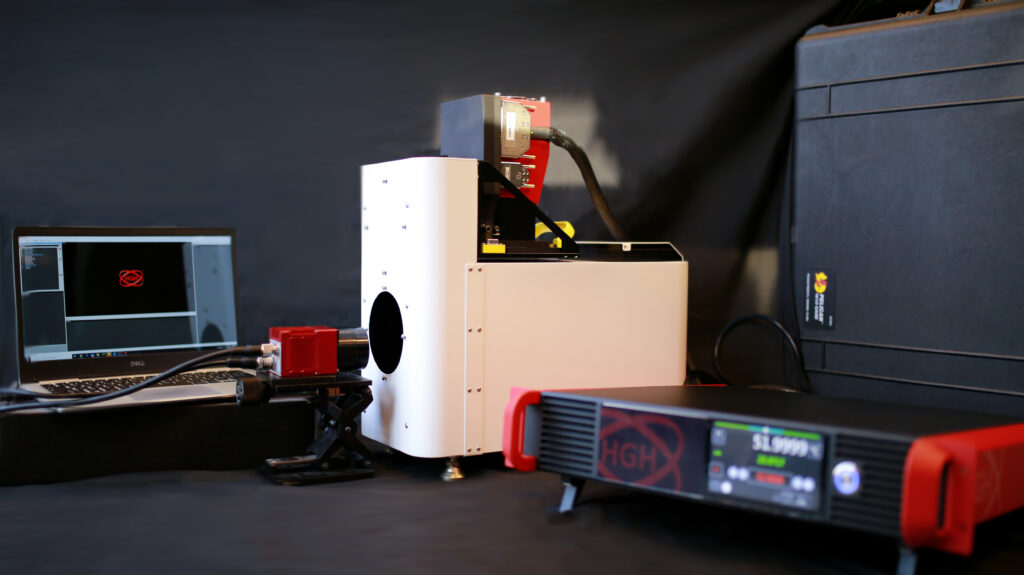 OPAL, the portable collimator for a wide range of tests!
Tests can be run manually with human eyes or automatically with computing help thanks to the dedicated testing software INFRATEST and rugged computer. The different versions of OPAL allow you to run a wide range of tests:

Test for Night Vision Devices (NVD) / Visible Devices)

Test for Multispectral Devices (IR/ Visible/ NVD and lasers)
DRI (Detection, Recognition and Identification Ranges)


Noise Tests 
(Temporal/ Fixed Pattern/ 3D)*


Detection and correction of Bad Pixels*


Spatial Resolution (USAF Target)



MRC (USAF Targets with contrast)


Spot defect detection (automatic)


Detection and correction of Bad Pixels


Collimation test
 (Parallelism of bi-tubes NVG)


Manual Boresighting 
(IR/ NV/ Visible/ Laser emitter axis)
Automatic Boresighting 
(IR*/ NV/ Visible/ Laser emitter axis)
*Require an available video output channel on the Unit Under Test. Compatible communication links are given below.
Technical Specifications of the OPAL military test bench:
Aperture: 100 mm
Focal length: 635 mm
Field of View: 2.2 degrees
Spectral range: 0.4 to 14µm
Spatial Resolution of the collimator: 50 cy/mrad (diffraction limited)
Maximum Spatial Frequency for MRTD: 5 cy/mrad
Operating temperature range: +15°C to +35°C
Packaging for transportation: Compliant with AECTP 400 NATO publication (recorded in STANAG 4370)
Weight with packaging (OPAL Premium): 100kg in 4 cases (each case can be easily carried by two people)
Power consumption: 800 W
Power supply: 100-240 VAC, 50/60 Hz
Computer interfaces: Ethernet, RS-232, IEEE-488
Some examples of compatible devices