NV-2500 Night Vision Test Set
Automated testing for all night vision devices
Designed for testing night vision monocular or binocular systems, the NV-2500 system provides automated testing of all standard NVD tests with unparalleled accuracy and operator ease of use. Users operate the system with a built-in touchscreen where they can view test results in real time video without eye strain looking through binoculars.
Our unique system architecture allows for best-in-class repeatability (in-system and system to system). 
Tests are automated, thus removing many judgment calls and alignment errors often encountered by user variability, while also improving test time. Operator manual versions of the tests are also selectable for backward compatibility.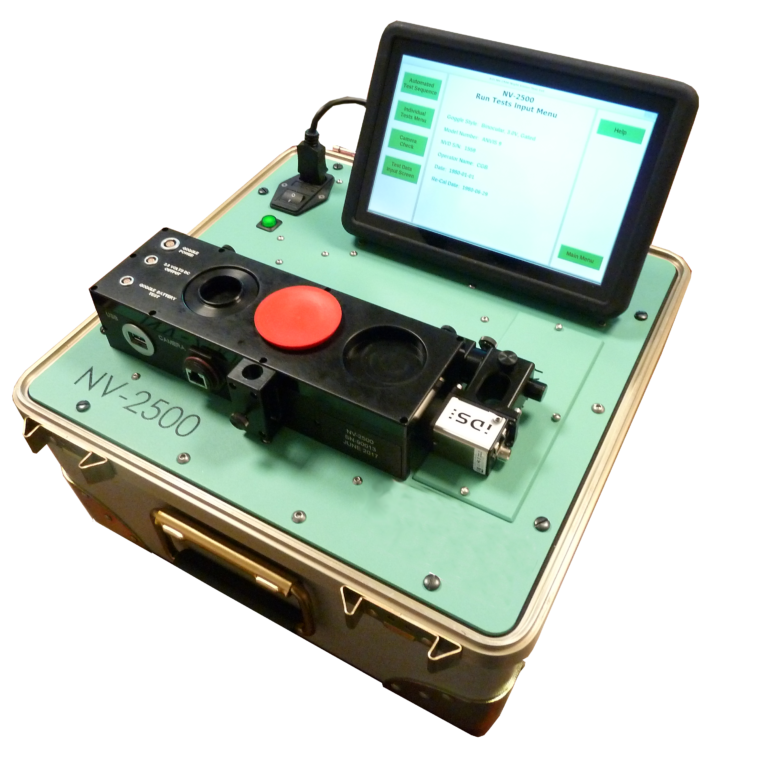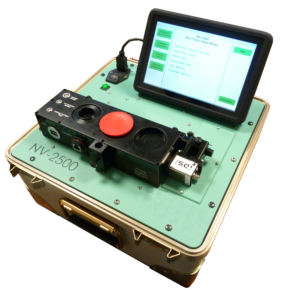 Compatible with all types of NVDS


Unique architecture and comprehensive kit
Standard tests performed with NV-2500:
Built-in Setup Function
Intensifier Check
Infinity Focus
High & Low Light Gain Check
High & Low Light Resolution
Bright Light Resolution
Diopter Test
Spot Defects
Distortion Test
Collimation Test
Current Draw
Tests can be run manually with human eyes or automatically with computing measurement.
Hence, automatic tests avoid any human subjective error and increase repeatability.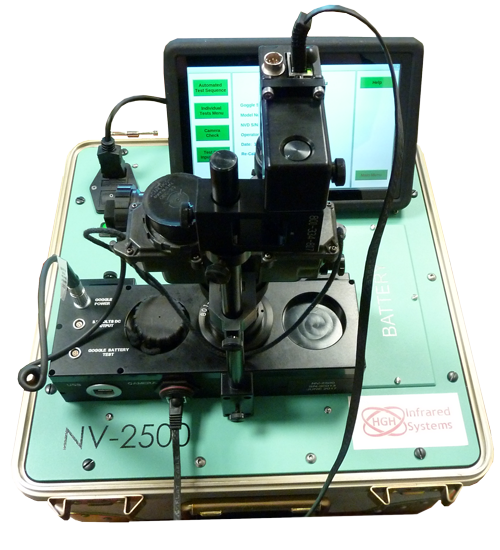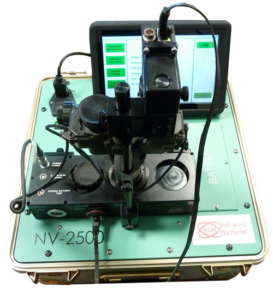 The NV-2500's unique architecture includes all the necessary accessories required for operation of all standard NVD tests at no extra charge. Operator manuals and contextual help are provided on-board via the touchscreen. Users may purchase an auxiliary printer to connect to the system for report printing or simply download reports to your preferred device via the USB slot.
NV2500 Comprehensive Kit:


Thanks to specific adaptation kits provided by HGH, the NV-2500 can be compatible with all Gen 2 and Gen 3 goggles with green or white tubes and auto gated or not versions such as:
NVG from US (L3/Harris, Elbit, FLIR Amarsight, Night Vision Devices…):
PVS-14
PVS-15
PVS-18
ANVIS-6
ANVIS-9
…etc.
NVG from Europe:
NYX – Theon Sensors
E-NYX – SAFRAN Vectronix
MUM-14 – Act In Black
Minimus – NVLS
Evo – NVLS
Brolis BPS14
Brolis Twins
Senop M40
OPTIX Diana
…etc.
Compatibility with other NVG is fully available on demand.
Automated MTF to eliminate operator differences and provide real live feedback for focus; manual operation available on standard USAF target
Bright MTF test for Gated Intensifiers
MTF or USAF target, spot defect zones, collimation and diopter tests
Comprehensive NVD electrical system test for battery packs, power supplies and helmet mounts
System current draw and test voltage