RUGGEDIZED HDR PYROMETRIC CAMERA
Combustion thermal monitoring
PYROSCAN is a High Dynamic Range (HDR) pyrometric camera with a high image resolution of 1.2 megapixels. It has been designed to provide accurate temperature monitoring in extreme environments, with temperatures from 700 °C to 1800 °C and in very dusty and smoky atmospheres. It combines real-time high resolution imagery with temperature measurements at any point of the burning zone inside boilers, furnaces, kilns or incinerators. This camera enables the detection of any changes on the combustion and the visualization of clinker fall.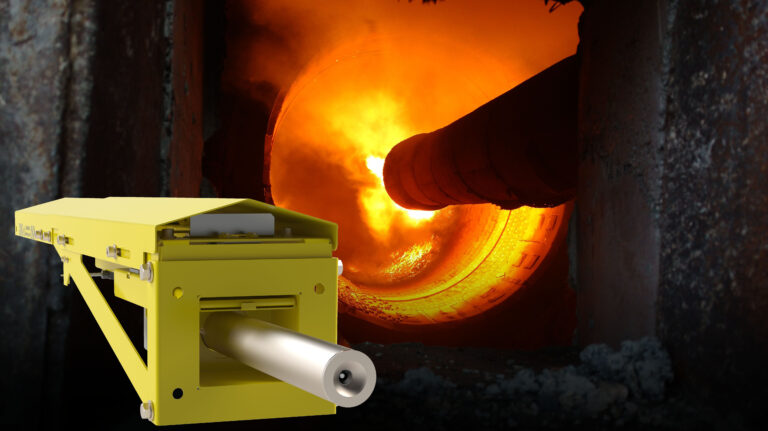 Each pixel of the image can be selected by the operator on the video image to measure temperatures, to follow their variations and to check changes in flame shape (flame length/width and black root length), etc. High-temperature kiln camera, providing furnace temperature monitoring

Efficient control of flame pattern and heat transfer

Comprehensive tool for burner adjustment
Accurate temperature measurement in dusty environments
Thanks to robust dust filter algorithms, Pyroscan is able to operate through the challenging and cluttered burning zone environment. Providing reliable temperature reading and HDR imagery, Pyroscan helps operator to stabilize the burning process, to homogenize and increase the clinker quality. It conducts efficient monitoring of any changes in flame pattern and heat transfer to the product. It is a comprehensive tool for burner adjustment, particularly for firing alternative fuels.
A water cooled pyrometric camera.
An air treatment unit.
An automatic insertion/extraction system.
A local electrical control cabinet.
A PC with dedicated software under Windows environment for data processing and display
High quality images with much more detail in both the dark and bright areas thanks to the full High Dynamic Range (HDR) thermal images
Reliable temperature reading (minimized effect of dusty atmosphere)
Visualization and temperature measurements of the clinker area
Unlimited number of user-defined measurements points
Historical database (video and temperature measurements)
Flame shape monitoring with user-defined analysis lines
Comprehensive tool for burner adjustment, particularly for firing alternative fuels
Video streaming over IP
62° horizontal x 48° vertical x 78° diagonal or 44° horizontal x 33° vertical x 55° diagonal
Temperature measurement range
1296 x 966 pixels
Gigabit Ethernet Output
High Dynamic Range (HDR) , dynamic > 120 dB
500 mm (other insertion lengths available on request)
100-240 V, 50/60 Hz, 500 W