A CYCLOPE software architecture for each specific need!
The need for new technologies in the Security and Defence sectors is growing, and this is reflected in SPYNEL's sales, increasing each year around the world.
While some of our clients require one single SPYNEL sensor and one single CYCLOPE interface, other configurations count several SPYNEL cameras, monitored by multiple operators at distant locations. Other users rely on many different security systems, including our SPYNEL sensors, and merge all their data on a VMS.
Facing so many specific and singular needs, we have expanded our offer:
CYCLOPE is now 100% ONVIF compliant, the data provided by SPYNEL to CYCLOPE is directly integrated into your VMS with a very low bandwidth.
CYCLOPE HYPERVISOR acts like a VMS itself, and collects data from multiple SPYNEL panoramic IR cameras.
CYCLOPE's CLIENT MODE ensures the communication between the user and the server.
#1 – 

NEW CYCLOPE HYPERVISOR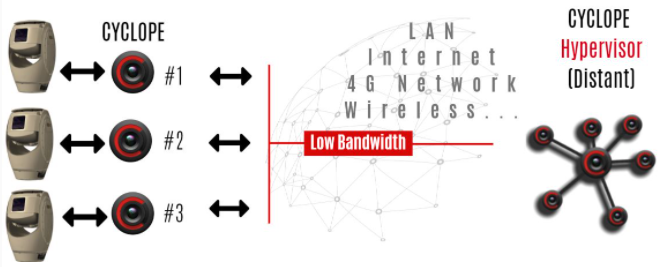 We just released a brand new version of CYCLOPE HYPERVISOR!
HGH's CYCLOPE Hypervisor software is an enhanced upper layer to CYCLOPE, the automatic intrusion detection sofware integrated in the SPYNEL panoramic IR cameras. CYCLOPE Hypervisor provides a global monitoring, on one single GUI, of all threats detected by all the SPYNEL 360° sensors installed over one or several critical infrastructures. 
Our Hypervisor now acts like a real VMS and allows for an immediate visualization of the multiple threats detected by your SPYNEL sensors, on one same CYCLOPE screen. On top of that, the low bandwidth allows access to the sensors from one or several remote control centers.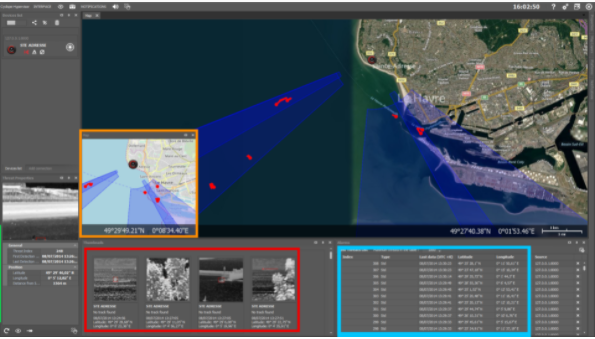 1 – 

T

able listing the latest detected events,

 with ID, location and pinpoint.

2 –

 

Large HD window 

in which you can navigate:

 

all videos can be classified, resized and zoomed-in

.
3 – Zoom windows automatically tracking the threats.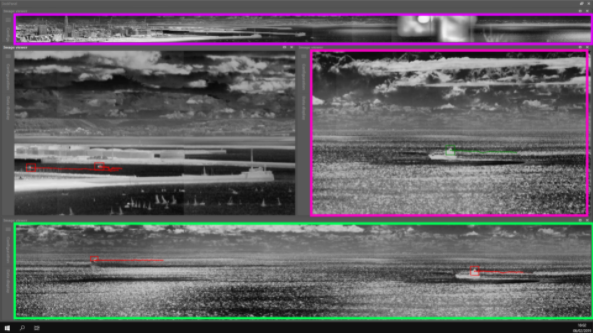 4 – Panoramic view 

5 – Video wall gathering all the threats, fully customizable according to your priorities
6 – Real-time IR video thumbnail 

when clicking on each threat

7 – Map view and geolocation of your SPYNEL sensors and the detected threats
#2 –

CYCLOPE'S ONVIF PLUGIN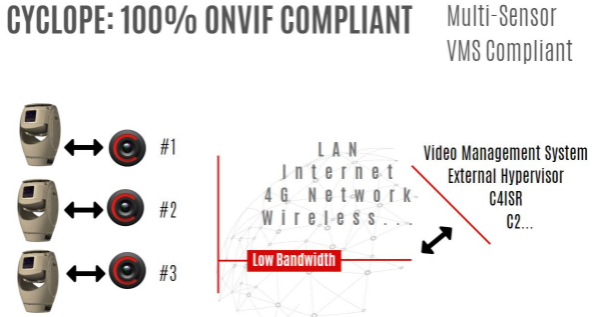 CYCLOPE is 100% ONVIF compliant. The ONVIF plugin is the ideal solution when: 
You have more than one SPYNEL system or other security systems combined;
You already have your own VMS;
There is a need for a multi-operator use, with >1 control centers 
#1 –

CYCLOPE'S CLIENT MODE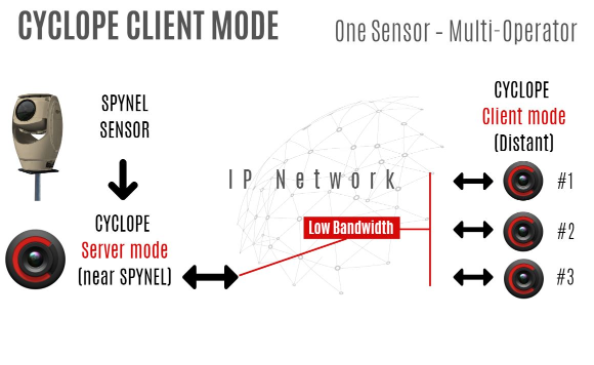 CYCLOPE's Client Mode ensures the communication between the user and the CYCLOPE server. It is the ideal solution when :
You only need one SPYNEL sensor;
There is a long distance between your SPYNEL sensor and the control center;
There is a need for a multi-operator use, with >1 control centers