Vacuum compatible Blackbodies
Optical Ground Support Equipment for Space & earth radiation simulation
Our Vacuum compatible Blackbodies – VBB – combine the performances of traditional infrared reference sources with high-end features in order to operate in T-VACs (Thermal Vacuum Chambers), at cryogenic or ambient temperatures. They radiate with a high and steady emissivity over a wide spectrum and an extended temperature range. Their temperature is known and controlled with the finest accuracy enabling the closest simulation of space and earth radiation for the test and calibration of space-borne infrared imagers.
An emissive head compatible with vacuum environment is connected to our New Generation controller located outside the T-VAC thanks to electric feedthrough defined in accordance with the chambers' configuration (selection of flanges ISO, CF, KF). The highest stability of regulation is ensured through an accurate power control and modelization of losses through radiation and conduction.
High emissivity is obtained thanks to vacuum compatible coating – compliant with the standards of the space industry –  applied on shaped plates. The emissive surface's temperature is measured in real time via high precision Platinium sensors calibrated by NMI (National Metrology Institute).
Various possibilities of temperature control can be selected in order to suit the different T-VAC radiating configurations of the end-user.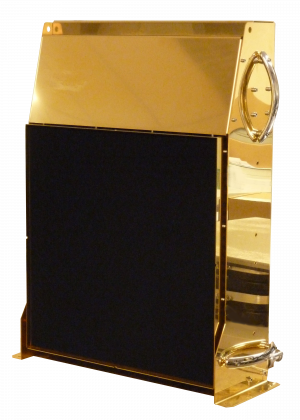 Absolute temperature range from 77K to 425K

High thermal uniformity and emissivity

Vacuum compatible coatings and materials complying with Space Industry standards
A comprehensive range of Vacuum Blackbodies:
DCN 1000 V: Highly uniform and fast regulating TEC-based blackbodies
ECN 100 V: Highly emissive resistances-based blackbodies with wide temperature range
RCN V: Cavity blackbodies with emissivity greater than 0.999
Extended area up to 500 x 500 m2 
Temperature range from + 77K to + 425K 
Real-time display of temperature data in °C, K, and F
Materials and assembling procedures compatible with clean room and vacuum conditions, complying with ISO-5 cleanliness standards
Fast response time and high stability through fine and accurate power control
High thermal uniformity and emissivity
Built In Test Equipment (BITE)
Exclusive automatic compensation of the influence of the chamber radiation.
Our Vacuum Blackbodies aim at simulating space and terrestrial radiation, to test and calibrate space infrared sensors. Find below some examples of major space programs we took part in:
Primes :
Space Agencies and Centres: