Panoramic thermal camera for real-time security
The 360° solution for threat detection and tracking, proven at sea and on land
The 360° thermal sensor Spynel-C® is a cutting-edge surveillance system providing with real-time panoramic images with automatic intrusion detection and tracking capabilities. You will benefit from a powerful situational awareness, with a 360° visualization of the surroundings. Spynel-C® is totally passive, which means intruders cannot see it, it is not vulnerable to camouflage or jamming. The infrared sensor operates 24/7, in good or bad weather.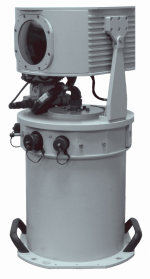 LWIR: Cooled Long-Wave InfraRed sensor

Human detection range: up to 3 km
React fast thanks to Spynel-C's early target discrimination:
Not only is SPYNEL-C® both compact and solid, it can also be deployed quickly to perform multiple events detection over very large areas. Be it in total darkness, in a fog, or when there is smoke, your Spynel® sensor will detect & recognize an unlimited number of tracks, providing high resolution images. The thermal sensor is able to track hardly detectable threats, like small, slow or tangential moving targets. Cost effective and reliable, your Infrared Camera SPYNEL-C® can be used as a standalone perimeter security solution or combined with systems already in place.
Cost effective and reliable
Full panoramic coverage with a single sensor
Very long range surveillance, up to the horizon
Day & night scrutinity, whatever the weather
Automatic and simultaneous tracking of multiple threats
Solid, compact and lightweight
Fast deployment
Fully passive, undetectable
Main applications of the panoramic thermal camera:
Persistent wide area surveillance
Perimeter security, 24/7
Asymmetrical threats detection over 360°
Surveillance of airports, airfields
Protection of critical infrastructure
Surveillance of Forward Operating Bases
Border & coastal surveillance
Protection of ships
Fight against piracy, against smuggling
Spynel-C® has obtained the  label "as used by the french armed forces". It testifies the French Armed Forces' use of the Spynel-C thermal camera.

Technical specifications :